Do you want to make your own buttons?
With a button machine you can make all kinds of buttons:
Buttons with a pin on the back; but also magnets, key rings, pocket mirrors, bottle openers and flatbacks are among the possibilities, depending on which format button machine you choose.
The front of all buttons is always the same. You just press a different type of back on it, no modification of the device needed. The operation and manual of the device can be found here.
What else can you expect?
Durable all-metal button machine with perfectly fitting button parts
Fast (approx. 300 buttons / hour)
Compact and portable
All-metal button parts (no shoddy cheap plastic, just tough strong shiny metal)
Sufficient stock and availability of button parts in the future. Also with alternative suppliers. These devices and parts are the most widely used standard in the button world.
Quality that makes repairs & maintenance possible
Our comprehensive 5-year guarantee (we know they can easily last much longer)
What is not?
Plastic pieces on your device that wear out quickly because everything else is metal
Always put an 'adapter' or extra piece in between or flip it over at every step of the button-making process (slow)
Strangely shaped white plastic parts that are only available from one vendor, without nicely finished magnets, mirrors, openers ... 
 Hey! With the bundle (machine + cutter) you are off to a good start. It is also cheaper than buying the machines separately.
Do you already own a button machine and do you need additional spare parts sets? Always check the format you need for your machine and whether it is compatible. This way you can avoid unnecessary deliveries and returns. Do not hesitate to contact us in case of doubt.
Before buying parts, check whether the original diameter of the Mylar film is suitable for your device:
| | |
| --- | --- |
| Button format | Diameter Mylar Foil |
| 25mm | 33.5mm |
| 32mm | 41.5mm |
| 38mm | 46.5mm |
| 44mm | 53.0mm |
| 56mm | 66.5mm |
| 75mm | 88.0mm |
Technical info on bleed and button format

When you design a button or send in an image, you should take into account 2 dimensions: "button size" & "bleed". 
Button format
The button size is the size of your finished button. This is the image that you actually see on the front of the button. 
Run or Bleed
The bleed is an extension to the button format. It ensures that there are no white borders on the buttons. 
The following illustration will clarify a lot: 




The bleed is different for all button formats: 
button 25mm + bleed: total diameter 33.5mm
button 32mm + bleed: total diameter 41.5mm
button 38mm + bleed: total diameter 46.5mm
button 44mm + bleed: total diameter 53.0mm 
button 56mm + bleed: total diameter 66.5mm
button 75mm + bleed: total diameter 88.0mm
button 88mm + bleed: total diameter 101.6mm

Examples
The following examples explain a lot: 

This is an example of a 25mm button with a bleed to a diameter of 33.5mm



Make sure that your image is within the button format so that it does not fall off as in the example on the right. 

Make sure that the background colour of your image continues in the bleed so that no white borders appear on your button, as in the example on the right.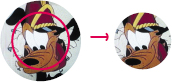 Also note that if you use a photo, it should have a bleed. This way you can avoid parts of your button falling out. 

Extra cool edges for your buttons?
To get extra clean edges and avoid air bubbles, you can limit the printing to the area where your paper disappears into the inside of the buttons. 
For all sizes, this white edge is slightly different (and the small sizes do not suffer from it):

38mm > total diameter from visible zone to white edge: approx. 40.50mm
44mm > total diameter from visible zone to white edge: approx. 46.50mm
56mm > total diameter from visible zone to white border: approx.59.00mm
75mm > total diameter from visible zone to white border: approx. 79.90mm

PS: When we make the buttons you don't have to take this into account. We place this border automatically.
File formats
The following file formats can be supplied: .pdf, .eps, .ai, .psd, .jpg, ... Please ensure that when using images, they have a minimum resolution of 300dpi or higher. Images provided do not always have to be the circular shape as you see above. Feel free to send a square image with the center piece used as an image.